Saying G'day and Goodbye
Let's all sing:
But it's all…over now.
Yes it's all…over now.
(Hmm…whose song is that?)
It has only been four days since those twenty students and five adults from Pacific Lutheran College, our new sister-school in Caloundra, Australia arrived in Kashima, (and they spent one of them at Disneyland,) but it has been one heck of a ride. They were the first such contingent, so this has been very much a test run. That's one of the reasons their visit was kept rather short. We're hoping the next group will be able to stay longer, but for now we're satisfied with what we've had…and are gasping for breath as we prepare to say goodbye.
Because we had such little idea what to expect, our little international committee really put everything into it. Plans were made, checked, rechecked, revised, re-revised, lost, rewritten, etc. to the point of insanity. We built up a pool of potential host families, selected the most likely candidates, and then drove them nuts with a withering battery of meetings and questionnaires. We also plastered our school's halls and newsletters with info about our new sister-school and the students that would be coming to visit us. After our group of teachers visited their school back in late July we made even further revisions to our plans. And all along, despite being quietly pushed out of the leadership position and often left out of the decision-making loop altogether, I was the interpreter, the principal go-between, the principal information resource, and the one that came up with most of the ideas. Perhaps I should also mention that I was the one that got the sister-school relationship going in the first place.
Well, anyway, that was then. When the contingent finally arrived a little before noon on the 13th of September, we were poised at our stations and ready for action despite the hideously hot and muggy, typhoon-driven weather. From there everything seemed to be going according to plan. During the first meeting and introductions I and "Sachi" Yoshikawa (chief of the international committee and my partner in crime for this event) freaked the kids out by identifying each of them by name. I explained that, considering we'd been looking at their photos and profiles for months, it felt like we already knew them all. Actually, that was incorrect. It was one thing to know their faces, hobbies, and food preferences. Getting in touch with their everyday, human side, however, was something altogether different. As it turned out, they were a great group of kids.
Once the first meeting was out of the way, we had a bit of lunch in the cafeteria and then left for a brief tour of Kashima. The whole thing had been my idea from the start, and I was put in charge of it. Lots of people wanted a piece of the pie, and there were numerous hijacking attempts, but I was adamant. I had an agenda, and I wasn't about to let things like schedule anxiety and "shock and awe" get in the way. My theme was simple and concrete: Kashima in the past, present, and future. There was a lot to tell about each.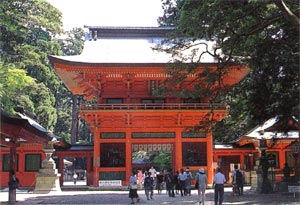 Naturally, we started out at Kashima Shrine, the historical heart of the whole region. Our principal had arranged for the high priest himself to give us an informative tour…while I did my best to interpret. Although I'd lived in the area for 15 years and knew quite a bit about the shrine, I still learned a lot about both it and the Shinto religion itself (some of which was pretty surprising). The high priest would gladly have lectured at us all day if we'd let him, but we didn't have that kind of time, so I cut the tour short at the inner shrine (the much older of the two main shrine buildings) and steered the group back out. As we went along, and the high priest continued to chat animatedly with me, the sacred deer in the inner enclosure suddenly started mewing at us loudly as if to say goodbye. In 15 years of visiting Kashima Shrine, I had never seen anything like it before. The high priest seemed surprised, too. Next we went to Kashima Port, the largest man-made deep-sea harbor in the world, which is in turn surrounded by some of the largest industrial facilities in the world (including Sumitomo Steel, my school's owner). I only intended for it to be a quick stop with a brief explanation, but the man at the ticket counter for the view tower offered to give us a discount. Next thing I knew, we were standing at the top of the tower, and the kids (some of whom were dizzy with vertigo) were peppering me with questions. I hadn't been up there for a while, and I'd forgotten just how spectacular the view really is. Once we got everything down from there, the final leg of the tour was a brief photo stop in front of Kashima Soccer Stadium, the massive structure that single-handedly resulted in the face of Kashima being completely changed as a result of the 2002 FIFA World Cup. Japanese pro soccer was born in Kashima, and the sport still has a tremendous influence on the city.
The kids were ready to go back to the school after that. After all, the school had air conditioning, and it was a bloody hot day. Besides, the next item on the agenda was introducing them to their host families. That was a lot of fun. It was also the first of what was to become several formal events in which I played interpreter for the principals of both schools. Both of them gave very profound speeches (i.e. tough to translate), but I think my own principal was definitely the crueler of the two. PLC's principal was kind enough to say one sentence at a time and then wait for my translation. My principal spouted out his entire three-minute speech in one go and then, with an impish grin, looked at me and said, "Dōzo" ("go ahead"). The audience got a reasonable paraphrasing with a lot of artistic license thrown in. (Somehow, I resisted the temptation to color things up a bit more…) Then we sent them all on their way and took the adults from PLC over to the dorm, where they'd be staying for the duration. And of course, there was the obligatory reception after that.
The next day, September 14th, started out with a morning assembly in the school's inner court. The Australians were paraded out in front of the entire student body. They seemed a bit intimidated by the thousand-odd Japanese teenagers staring at them, but everything went okay, and I only had to use a little artistic license in my interpreting. After that, the Australians were assigned "shadow students" and divided up among various classes. I and the five Australian adults walked around keeping quiet tabs on what was going on, and from what we could see everyone was having a total blast. In the afternoon a group of us including three Australian student representatives went to City Hall to meet the Mayor. That was kind of fun, too. (The Mayor paused at convenient intervals for my translation. Once again, our principal didn't…and he seemed to be pretty amused with himself, too.) After school, the
kendo
(Japanese fencing) club gave us a special demonstration and lesson. I think I got an even bigger kick out of that than the Australians did, but everyone had a good time. At first Mr. Abe, the chief
kendo
instructor, was irritatingly reluctant to have me as an interpreter because he was worried his vocabulary might be over my head (and he was right), but when I listened carefully to his whole talk I realized that I had heard much of it before, so I was able to provide an adequate translation. After that, I watched the training for a while and then finally picked up a practice sword and joined in the fun. (Mr. Abe said I looked surprisingly natural at it, and he doesn't usually give compliments.) We had a hard time prying the kids away from the dojo when it was done, but they knew they had a long day the next day. That didn't stop a small group of Aussies and Japanese from gathering in the Home Base room for a language party (i.e. taking turns asking me how to say different phrases in Japanese or English). That was fun, too, and we all went home happy.
The 15th was a welcome reprieve because the Australians went to Tokyo Disneyland for the day. That left me to deal with my regular classes. The 16th, however, was another full-day visit with the Australian students split up among their assigned classes. I did my best to keep the day open and just wandered about helping out where I was needed (which sometimes turned out to be a very good thing). In the afternoon, the Australians were given a special
shodo
(Japanese calligraphy) lesson. After that, the Tea Ceremony club took advantage of a wonderful opportunity to strut their stuff by performing the ceremony for our guests, complete with explanations by a couple of students that had done homestays abroad and had remarkable English ability. As it turned out, the Tea Ceremony wound up finishing a little early, so I led the group over to the auditorium, where Mr. Ogawa was conducting an orchestra rehearsal. We gave them an impromptu performance of Benjamin Britten's "A Young Person's Guide to the Orchestra", with me doing the narration. The Australians were impressed by the performance, but they were even more thrilled when I told them we just might be playing it in Australia next year…if people can get their acts together (a hint that wasn't lost on PLC's principal. She promised to get on their band director's case to get back to us about it).
That night our principal hosted a dinner party for PLC's principal. I attended together with a couple other English teachers from our school. The dinner was held at a really nice sushi restaurant in Itako that I'd never heard of before. I went ahead and indulged myself along with everyone else. I'd been avoiding drinking because of el kidneystono, but I think I deserved a reprieve. Besides, the principal had already reserved a substitute driver for me (which he said the school would pay for, but they haven't yet). It was a good end to a good week.
On the way home, with me feeling bizarre at sitting in the passenger seat of my own, BLUE car, I got a phone call. It was from the student captain of the jazz band. There was going to be a morning assembly the next day to say farewell to the audience. She wanted to know if she and the other 11th graders in the music club could perform "a song". I figured why not, since so many of them had served as host sisters. Without thinking too much about it, I went ahead and said yes.
That brought me to this morning, the 17th, when I realized I had to talk to the Powers that Be (muffled, minor pentatonic fanfare) about the planned morning assembly. It was more or less a given that they expected it to be a somber, serious event, and I just knew the 11th grade music club girls were going to be anything BUT serious.
In fact, when I thought about it bit more, it began to seem a bit fishy. That same group of girls had already performed several times over the past year…all
dances
. So were they planning a dance or a song? I hurried up to the music club room to find them practicing a dance, just as I'd expected. They informed me that they'd be singing while doing the dance, so there really hadn't been a miscommunication. However, I was a bit hard pressed to get the (exceptionally hard-assed) master of ceremonies to work it into the program schedule.
Once again we arrived at the school courtyard to be confronted by the thousand-strong student body. The principal gave a long, profound speech without pauses (but I translated it quietly to PLC's principal in the shadows as he went along, so it didn't matter). Then one of our 12th graders, a boy who had done a homestay in New Zealand, gave a fantastic speech in English that left the Aussies (and me) feeling totally blown away. This was followed by gifts for them presented by our student council, who were supposed to give a short speech but just dropped off the gifts and ran. Then it was time for the dance/song, but the girls were nowhere in sight. The master of ceremonies looked like he was about to blow a gasket. He looked like he was about to blow several other parts as well when the 11th graders of the music club finally DID appear…wearing cheerleader costumes. They then performed an adorable routine to "Hey, Rickey" as they and the Aussie kids sang together! (They later explained that several of them, Seishin and PLC students together, had sung that song at a karaoke party the night before, and they'd already had the dance routine ready, so it only seemed appropriate. I heartily agreed, though I doubt the suit-and-tie members of the power group were exactly thrilled.) When it was all done, the students left to attend two final classes. Then it was time for the Big Farewell.
Which brings us to now. Sachi and the adults in the Australian entourage hoped to board their chartered bus immediately and head over to Kashima Jingu Station to catch their train. Famous last words. Both the kids and PLC's principal insisted on one last photo shoot in front of the giant banner saying "Welcome Pacific Lutheran College & Seishin Gakuen" that the school had put up just outside the front gate. The trouble is that all the PLC students and their host brother/sisters and "shadows" amount to a sizeable crowd that's far more interested in their own private good-byes than any kind of organized activity, train schedules notwithstanding! We finally do manage to get them all squeezed in front of the banner so we can take pictures of them with something like a dozen different cameras. Some of them are already in tears. When the photo shoot ends and we start trying to herd the PLC students onto their bus (where's a sheepdog when you need one?), the tears are flowing freely. It was a very short visit, but it has affected the kids of both our schools very deeply.
Sachi and I follow the bus to the station in one of the school vans. Then we give them a final parting gift: lunches that we have prepared for them. Then we start to help them through the gate…just as the whole massive entourage from the school starts rolling in. You see, the host sister/brothers were invited to come along with the PLC students on the bus so they could say a proper goodbye, but the shadow students and friends went ahead and walked to the station (a less than ten minute walk from the school) so they could join the party. Nearly all of them have monthly rail passes anyway, but the stationmaster gives up checking and just lets them all through. In the end, there's a massive crowd gathered up on the platform. I know I probably should go up there, too, but for some reason I decide not to. Maybe my usual dislike of large, noisy crowds is kicking in. Maybe I'm just feeling blue now that all that effort and stress is finally coming to a sweet end. Maybe it's just that I have never really liked saying goodbye. Maybe I'm just being a reclusive asshole like I have tended to be off and on through most of my life. Maybe it's a combination thereof. I don't know, but I make do with seeing them off with a wave from the ground as the rain roars off down the elevated platform, a crowd of boys in hot pursuit. Then Sachi and I are on our way back to ye olde academy, heaving heavy sighs.
Yes, the first round has been a big success so far. Now on to the next chapter…