A Question of Priorities...
...or how quickly dreams turn to dust.
During the 2002-2003 school year the Seishin Gakuen symphony orchestra (fanfare played by whoever happens to be available at the moment) tried to go on a concert tour in Austria. The orchestra was playing at a peak level then, and Mr. Ogawa thought it was a perfect time to show our stuff elsewhere. Unfortunately, that plan wound up being shot down in flames by the Music Club Parents' Association (er…somebody cue a fanfare…what fanfare…ANY fanfare…no, not that one…yes, that one…NO, NOT THAT ONE…let's have tea instead…lovely). A lot of reasons were cited by the parents for their lack of support: the young average age of the orchestra members, SARS, Al-Qaeda, the fact that only the orchestra would be going, loss of valuable study time, etc, etc, etc. However, what it really boiled down to was a massive smear campaign on the part of the (thankfully gone) "parent-from-hell" (stupid but very precise fanfare), who opposed anything that was neither his idea nor featured his daughter. Needless to say, there were a lot of hard feelings, and the kids were pretty disappointed.
Cut to the here and now.
The orchestra has undergone a good-sized shift, but it actually turned out to be largely for the better. Even before the new school year started in April, Mr. Ogawa looked at his available personnel, thought about it for a while, and realized that our current group might even be better overall than the 2002-2003 one.
We also had a wonderful, new opportunity: our new sister-school in Australia.
Our international committee had spent lots of time fussing and fuming over our First Exchange. I had insisted on sending a delegation of teachers as the first step (which happened; see the posting "Going Down Under"), but the problem was that Pacific Lutheran College, our sister-school, was already planning on sending nearly two dozen students our way in mid-September (which also happened; see the posting "Saying G'day and Goodbye", below). According to the terms of our original agreement we were supposed to send our return exchange the following March. However, trying to recruit students for the event seemed like a hopeless task. We couldn't see how we could pull it off.
That's when Mr. Ogawa suggested sending the orchestra.
We got enthusiastic responses all around. Our principal thought it was a wonderful idea. The deputy principal felt it took a welcome load off his shoulders. Pacific Lutheran College panicked at first, but when we explained that we didn't expect them to provide home-stays for all 98 members they became ecstatic about the prospect (especially when they heard us perform while their students were here!). And the kids…well…they were pretty much bouncing off the walls with excitement.
We were planning to go during the subsequent spring vacation, which meant we had to try to throw this whole tour thing together in less than a year. We knew it would be a brutal task. However, we had plenty of support. Thanks to the failed Austria trip, we were already in contact with a German international travel agency specializing in youth music events. Since they already knew all about us, it streamlined things a lot. The music director at P.L.C. was being a typical music director (i.e. hopelessly wrapped up in his own affairs), but he did do quite a bit of searching around to get us needed logistical support, such as percussion instruments and transportation. We were also invited to come a little ways south, to Gold Coast, to visit and play at Trinity Lutheran College, another private school on the same network as P.L.C. which already has a sister-club exchange with Seishin's rugby team.
Even better: when the international travel agency got in touch with youth music organizations in Australia and told them all about us, we were given an opportunity that seemed nothing short of a miracle. We were invited to perform as part of an international youth music festival at the Sydney Opera House.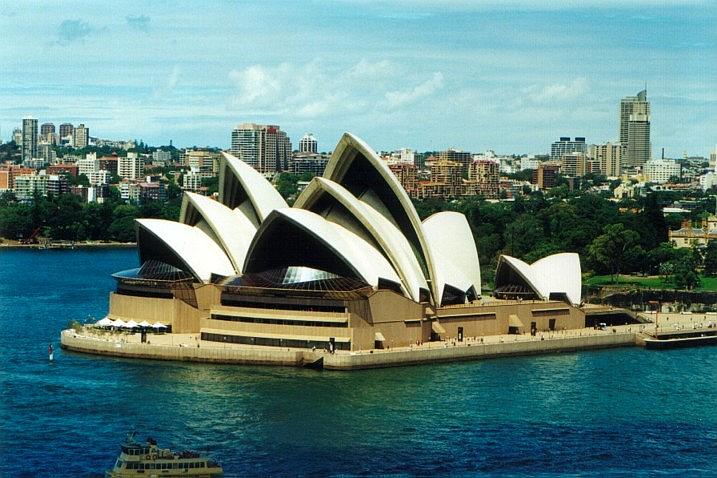 Yes, that's right. Wow.
The next step was the Parent's Association, but this time things were quite different. There were some misgivings, to be sure, but since the principal had already given his full support (and, more importantly, the parent-from-hell was long gone), we didn't have much trouble getting their approval. We took a vote, and over 80% said yes. The motion was carried, and the plan was officially set into motion.
We all understood that it would be a huge undertaking, rather intimidating for our poor (overprotected) kids, so we told them that participation would be strictly voluntary. We had a formal discussion just before our summer training camp last July and then asked the kids to submit a form telling us whether or not they would be going to Australia with us. In the end, more than 80% said they would. That was more than enough for a viable orchestra. Everything was go for launch, and the orchestra immediately started rehearsing tunes they would be playing on the tour.
September saw the school's overwhelming Anniversary Festival followed immediately by the arrival of the first contingent from P.L.C.. It all went beautifully, but something didn't seem quite right about the 11th graders in the music club, who form its central committee. They seemed oddly dark, even evasive, all of a sudden, and some of them started asking me really strange questions about the possibility of them going to Australia the following summer as exchange students. It was true that most of the host families during the recent P.L.C. visit had been members of the music club, mainly 10th and 11th graders, and I thought the orchestra tour would give them a convenient opportunity to be with their new friends again. With that in mind, their questions didn't seem to make sense. Things were starting to seem a bit too odd for my liking.
Mr. Ogawa also clearly looked troubled, and when I asked him what was up he told me that several of the orchestra members, mainly 10th and 11th graders, had suddenly changed their minds and bowed out of the tour. We still had all the parts adequately covered, so it wasn't such a big deal, but it was still kind of unsettling.
We had a meeting with several of the mothers of the 11th grade members at about this time. They indicated that they were still willing to support us if (underline IF) we were still determined to go through with it. However, they seemed just as dark and evasive all of a sudden as the 11th grade students themselves. They offered their apparently grudging support with grim faces and low voices. It didn't seem to trouble Mr. Ogawa. He took the positive answer, noted it, and went with it.
Right after the meeting, the very vocal mother of our lead bassoonist cornered me and asked, "Mr. Kevin, don't you think it sad that going to Australia will make the 11th graders miss out on preparing for the Sports Festival?" I was totally puzzled not only by the question, but the mother's tone of voice. The question felt very loaded. I replied frankly that, when I had been a team supervisor for the Sports Festival in the past, the amount of preparation done during spring vacation had been minimal. Moreover, the Sports Festival wasn't until the end of April, so there would be at least a full month in between. Therefore, the Australia tour shouldn't be a problem in any case. The mother didn't seem convinced. She said ominously, "I really don't think the girls will be happy about it. They're really looking forward to the dance competition."
That set off a warning bell immediately. The Sports Festival dance competition! The woman's daughter entered our music club as a 10th grader last year after transferring from another school. Within a few months, she went from a reclusive wall flower to our club's official cheerleader/dance team captain. Multitalented, the girl seems especially fond of dance, as the various (usually surprise) group performances she has choreographed over the past year have shown. I guess it's only natural that she should be hoping to be in charge of a team's dance event during the contest in the Sports Festival. (In fact, she might even rescue the event from the hideous morass of cliché dullness it has been foundering in for the past four or five years.) However, considering the fact that she had become something of a ringleader among the 10th and 11th graders, things didn't look well.
The week following that meeting was final exams, so all club-related activities were off. When it was all over, we were to proceed to the next step, which was a meeting with the 11th grade central committee to hammer out our final plans for the tour.
However, when Mr. Ogawa, Mr. Karatsu, and I went to the conference room, we found not the 11th grade committee members, but their mothers. The student leader of the music club came in the room just long enough to drop off a couple of bottles of iced coffee, and then she bolted out of the room as fast as she could go.
Then the mothers gave us the Manifesto.
I don't know what else to call it. It was a whole pile of anonymous letters composed and compiled jointly by all the 11th graders and their mothers. The contents were unbelievable. In a nutshell, they all more or less read: "I wanted to go at first, but then I realized that the dance competition is much more important to me. Besides, as a new 12th grader, I'll really need my study time, and I can't really spare the six days for the tour. I can't tell you myself, because I'm afraid you'll get angry and single me out. I'm very sorry, but I won't be going."
In other words, that stupid dance competition is far more important to the whole lot of them than playing a once-in-a-lifetime (never in most lifetimes!) performance at one of the world's most prestigious venues! Well, whether their reasons were justified or not, they left us with a sorely hamstrung orchestra minus almost all of its key players. There was no way in hell we would be even tempted to bring such a group to Australia.
In other words, game over. Killed by the f***ing Sports Festival. And I have to try to explain that to both our sister-school and the other places that were eagerly hoping to host us.
I also have to try to figure out how I'm ever going to trust that group of cowardly she-assassins again since we still have so many events coming up. Dodging an issue and hitting me with it from behind to avoid my wrath only earns greater wrath, I'm afraid, even if I sympathize with the reasons (and this time I most definitely do NOT). Forgive me for being an American, but being backstabbed is something I don't take gracefully.