The Magical (Moody) World of Dis-crimination?
Well, they finally got me.
Ever since my daughter entered elementary school I've carefully avoided being dragged along on the yearly PTA outing. Well, with her now in grade 4 and my son now in grade 1, it finally became the double-punch I'd long dreaded. And with my wife off spending the day yelling at her tennis club, this time there was no doubt as to the outcome. I was dragged kicking and screaming...mainly by my two very enthusiastic kids...into taking part in the event.
What was it, you say? Well, thanks for asking! It was a trip to DISNEYLAND!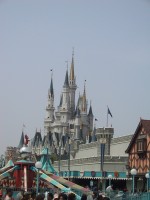 Yes, I know what you're thinking. It's something like, "You lucky bastard!" I can't disagree more. Disneyland isn't just a park, it's an experience. It's filled with adventure. It's filled with dreams. Unfortunately, it's also filled with people most of the time...and today was an extreme case.
Yesterday's weather forecast for today called for cloudy skies and occasional showers. As it happened, we wound up with the most beautiful day we'd had in weeks. It was just hot and humid enough to be labeled "hot and humid", but not bad. It was actually rather comfortable. All in all, it was a perfect day for going to Disneyland. A lot of people would think so. In fact, a lot of people
did
think so. In fact,
too f*****g many
people thought so. The place was jam packed, mainly with tour groups. The tour bus parking area was overflowing, and everywhere you looked you saw groups of people walking together.
Naturally, many if not most of those groups came ready-equipped with
Fastpasses
.
Fastpasses are something that the Tokyo Disney Resort started in the late 90s. Essentially, it's institutionalized corruption that has been made legitimate. If you have already purchased an all-day passport, you can spend extra money for a Fastpass to a particular attraction (i.e. you can pay a standardized bribe), and it allows you to cut in front of the line. Quite often package tours to the Tokyo Disney Resort include Fastpasses as part of the deal. That's very convenient, as it means you don't have to wait long to ride major attractions. However, it also means ordinary ticket and passport holders have to wait even longer, particularly when there are lots of tour groups present...like they are today.
The first attraction I and my kids headed for was "Buzz Lightyear's Astroblasters", which is a really cool laser target-shooting game. The three of us went on it once last year, and he loved it. He was really looking forward to trying it again this year. We arrived to find a huge mass of people standing in a line (totally exposed to the sun) that wasn't moving at all. The attendants informed us that it would be a wait of more than two hours. My daughter and I both said no way. My son was disappointed, but he understood. Promising the little boy that we'd try again later, we headed off in search of something more doable.
Navigating Disneyland on a typical day can be a headache. On a busy day it borders on impossible. It's bad enough having to zig-zag through the undulating mass of humanity (a term I use generously) having to deal with families of four that walk abreast holding hands, sauntering couples in no particular hurry, would-be clowns eager to make asses of themselves but unaware they have little room in which to do it, people that think the whole world will stop or at least move aside while they take pictures of each other in a busy lane, and all those &$%#*
strollers!!!!!
(I once brought my daughter to Disneyland in a stroller and quickly learned that it was
a stupid mistake
totally pointless. After all, a baby can't do very much there except get in the way!) Then, when you finally get where you're going, odds are you'll wind up having to wait forever...unless you happen to have a Fastpass for it.
After digging our way back out of the vicinity of the "Buzz Lightyear" entrance, we looked at "Star Tours" and discovered it had virtually no line at all. A bored-looking attendant told us it would be a twenty-minute wait at the most. As it turned out, it was only fifteen. Yes,
Star Wars
has seen its popularity fade, (maybe because the prequels were so disappointing?) but "Star Tours" is still a fun ride, and I always enjoy it. The kids were both happy. We also appreciated the nice and SHORT wait...in an air-conditioned building, no less!
After that we threaded our way through the crowds. ToonTown looked insane, so we gave it a miss. "Pooh's Hunny Hunt" had a huge, immobile line and a sign indicating a wait of 140 minutes...and a Fastpass entrance into which people were just casually strolling. That's when I first remembered those damned Fastpass things. It made me mad, so we kept walking. Next we came upon "Small World", and my daughter immediately started begging me to take her there. A combination of my son's agonized moaning and the slow-moving line rescued us from that. Then we came to the "Haunted Mansion". The sign said a 90-minute wait, but the line was moving at a decent pace, probably because the Fastpass lane was eerily empty. We decided to go for it. In the end, the wait was only about 40 minutes (again, because we didn't have Fastpassers getting in the way). My son started whimpering within minutes of our entering, and he spent most of the ride with his guidebook pressed over his eyes. Needless to say, he was not happy about it.
Next, my daughter insisted we head for "Splash Mountain", her personal favorite. My son the scaredy-cat (still reeling from the "Mansion") immediately started protesting, but he was outvoted. We headed into Critter Country to find "Splash Mountain" closed for renovations. My son was pretty happy about that. In a way, it was actually fortunate. You see, without "Splash Mountain" Critter Country was virtually deserted, so buying lunch at the Raccoon Saloon was quick and easy, and we had no trouble getting a table. We enjoyed a nice, relaxing bite before plunging into the crowds again.
My daughter and I were both kind of bummed over the lack of "Splash Mountain", so we headed to another mountain that wasn't so far away, "Big Thunder Mountain". Neither of my kids had been on it, and I hadn't in years, so it seemed like a good choice. The sign at the line indicated a two-hour wait, but since the "Haunted Mansion" had gone so much quicker than expected, I decided to trust my luck. Boy, was I wrong...
You see, a huge mass of Fastpass holders came in to "Big Thunder Mountain" all at once, and they just kept coming and coming and coming. Naturally, since they were Fastpass holders, they got to come in quickly while the rest of us were made to wait. The park did its best to rub it in, too; not only were there very conspicuous (and redundant) signs marking the Fastpass lane everywhere, but there were attendants at intervals that stood there yelling, "Fastpass holders, this way, please! Fastpass holders, this way please!" as if the ropes and signs weren't clear enough. Add to that the fact that the "regular ticket holders" line had been renamed the "standby line" (i.e. we second-class lowlife have to stand by until all the
real human beings
of
class
and
quality
have been let in), and you have something that is, well, insulting. The wait was more than two hours. Most of that time we just stood there, unmoving, as we watched the Fastpass line move along at a brisk pace. (Our line only moved when there was a break in the Fastpass line...perhaps because a child was being checked out at the gate.) Meanwhile, my son spent the whole time saying over and over again, "Is this a roller coaster? I hope it's not a roller coaster! I hate roller coasters! Roller coasters are scary! Is this a roller coaster? I hope it's not a roller coaster! I hate roller coasters! Roller coasters are scary! Is this a roller coaster...?"
By the time we arrived at the platform to board the train-like cars (separated by class, I noticed), I had decided:


not to start screaming hysterically

not to throttle my son

not to grab a nearby blunt object and start beating any Fastpass holders or attendants within reach

not to set foot in Disneyland again for as long as I live...or at least until they discontinue the Fastpass system (which will probably never happen).

I'm serious. Disneyland is kissing up to tour companies, guests at their resort hotels, and people with a lot of extra money to burn by humiliating their regular ticket and passport holders. It's discrimination, and it's insulting.
Anyway, as soon as the ride was over, my son loudly declared, "Hey, I enjoyed that!"
It was already getting dark, and they were setting up for the Electrical Parade. I had never seen that before, but I frankly didn't care. I just wanted to get out. However, we still had a little over an hour to kill before our bus would leave. With lanes blocked off and people gathering to watch the parade, it was even tougher going, but we went back to Tomorrowland. It was there that I found something strange. The line at "Buzz Lightyear's Astroblaster" was even bigger than it had been in the morning, but now they were saying only about a 90-minute wait instead of more than two hours. The line was also moving quickly. Then I noticed the sign indicating that the Fastpass lane was closed for the evening! Well, of
course
the line was moving faster! They didn't have all those people conveniently cutting in front of them! (I
REALLY HATE FASTPASSES!!!!!!!!
) I was willing to try going for it anyway, but my son declined, saying he would save it for next time. Instead, we headed for the World Bazaar for a bit of shopping. That's when I noticed the entrance to "Pirates of the Caribbean" had a sign saying there was a
five minute wait
! It wasn't even that long. For the first time ever, I experienced a Disney attraction that lasted longer than the wait, and I was all the happier for it.
My son whined all the way in and whimpered when we got in the boat. He covered his eyes when we started off. After it was finished, he said, "That was cool!"
We saw a little of the Electrical Parade, a first for all of us, and it was beautiful even from more than 100 meters away through thick crowds. We did our gift shopping, and then we got to enjoy another first on the way out: the famous Disney fireworks display. It lasted almost ten minutes.
When we got on the bus, I was handed a cold can of
hopposhu
(lit. "hop liquor", i.e. low-malt beer. Since it doesn't qualify as "beer" the taxes are lower, so the price is less). I don't usually like
hopposhu
so much, but it really hit the spot, and I was grateful when they gave me another one. Both my kids were worn out but happy, and they were eagerly talking about what they'd do next time we came to the Magical World of Disney.
I hope my wife takes them next time. I'd really rather not. Not unless I'm given complimentary Fastpasses and allowed to wear elbow spikes.