High Water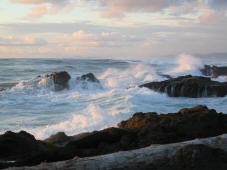 When something broke the surface
Just to see the starry dome-
We still feel that relation
When the water takes us home
In the flying spray of the ocean
The water takes you home-
- Rush, "High Water" (from
Hold Your Fire
)
Water has held a special significance throughout history and through different cultures. In the Judeo-Christo-Islamic creation story God starts with the seas and then goes on to add the firmament which later becomes dry land. He then decides to wipe out said creation and start over by means of a great flood. In Christianity, one of the important sacrements is
baptism
, the ritual washing away of one's sins with water. One of the key symbols in Buddhism is the lotus flower, which emerges from a muddy pond bottom, floats above the surface of the water, blooms into a lovely blossom, and then sinks back into the water and returns to the mud to repeat the cycle of life. The ancient Celts believed that every body of water was inhabited by a goddess (possibly the source of the Lady of the Lake in the King Arthur legends) and a source of spiritual power. Japanese Shinto tradition also believes in the spiritual power of water, particularly if it emerges from a spring. The Japanese also envision the border between the "real" world and the afterlife as a river, the crossing of which represents the final break with life. One could draw an obvious parallel with the River Styx in Greek (Roman) mythology, across which Hermes (Charon)(i.e. "Death") ferries the souls of the departed. Clearly water is a powerful symbol of both life and death.
A picture from FH2o's "Kuching Kayaking" site.
Water also means different things to different people in modern times. For Malaysian architect, blogger, and increasingly-famous kayaker
"Unker" FH2o
water is not just a symbol of life, it is a
way
of life, and it is something that clearly holds very deep significance to him. It is also clearly very meaningful to Malaysian professor living in Japan
Lrong
, who is quite proud of the decorative pond he has recently created on his property and stocked with goldfish (and pit vipers?). On the other hand, in her blog post about her recent trip to the Wallowa Mountains and Hells Canyon, my longtime pal
Kami
says:
"I have this thing about water. I love it, but I don't trust it. I respect that which can deal me death quite easily in a moment even when I'm being careful."
A scene from Kami's Nanopubye blogsite.
Meanwhile, Tunisian-living-in-America
Leilouta
just posted a couple of pictures of crystallized water (i.e. snow) on her blog in order to help us live through the summer heat, while young Palestinian poet, philosopher, political activist, and world traveler
Saba
posted not so long ago (the last we've heard from her...meaning she's probably in the West Bank now) on the
new blog she's sharing with a couple of Israelis
talking about her recent experience sunbathing at the beach in Aqaba, Jordan and watching American warships anchoring right off the coast...together with one ship flying an Israeli flag. (Funny...Iraq isn't even anywhere near Aqaba!)
Water as a source of life or doom...
Pandabonium
, meanwhile, speaks of rainy days, and with good reason. The
tsuyu
, or "plum rain" season has lasted well beyond its normal three weeks this year. It has also been unusually violent. The trip to Kamogawa Sea World with my kids took place on the first sunny day we'd had in a long time, and it was followed immediately by almost a full week of hard, driving rain. My area hasn't suffered so much, but down in the Japan Alps region, particularly in Nagano Prefecture, there has already been a considerable toll in lives and property. These unusually long, hard monsoon rains seem intent to baptize the country by washing it away completely! If a river really is the border between the worlds of the living and the dead here, well, it has probably overflowed its banks together with a lot of others! I just hope it winds down and becomes real summer soon!
Of course, I don't personally have too much reason to complain. In just four more days I'll be flying high
over
the water...on my way Down Under! I'm counting the days!
Stay cool and dry, everyone, unless you intend to get wet! :-)