Under and Back Again - Pt. I
Maybe it's just me, but it seems strange for us to be gathering for a school-related trip in the late afternoon. All of our regular school excursions, camps, concerts,
lynchings,
festivals, etc. usually involve dragging oneself out of bed at some ungodly hour, ingesting a (un)healthy amount of caffeine just to keep one's eyes open, and arriving at ye olde academy in the early-morning mist to find the kids bouncing around like they're all on a record-breaking sugar high. (Actually, it probably has more to do with caffeine, of which you are equally guilty, but it always seems to affect teenagers more strongly...perhaps since they haven't become addicted yet?)(The little
bastards
...)
Not this time. Our flight to Australia is scheduled to leave at 10:30 at night (translation: hopefully it'll be underway by dawn), so our bus is departing at 6:00 p.m.. That means I can take it easy during the day, leave home at a reasonable hour, and relax up until it's time to go, right?
*Ahem* You forget that it's
me
writing this. Actually, I wind up spending the day running around in a mad fuss making sure all my luggage is ready, realizing I've forgotten half a dozen things I need, going on quick, frenetic shopping trips to get it all taken care of while trying hard not to get an ulcer, blow a gasket, or throttle one or both of my kids. By some miracle I manage to roll into ye olde academy a full hour early. Naturally, when I go into the school (
big
mistake) I wind up getting grabbed by various people for various last-minute explanations of just what the Sam Hill (whoever the hell
he
was) I'm doing. Naturally, I'm the last one to get on the bus...
Our party consists of nineteen students (since one of the original twenty was hospitalized with pneumonia three days ago), plus deputy principal Mr. K, Ms. Y, who is an English teacher and also chairperson of the international affairs committee, another English teacher named Mr. I, and myself. Mr. K, Ms. Y, and I all went to Caloundra last year, so it's a return visit we've all been looking forward to. Mr. I studied at the University of Michigan, but he has never been to Australia, so he's pretty excited. I don't think I need to tell you that the kids are nervous as hell. Some of them look ready to shatter if exposed to the wrong frequency. That means it's probably best to keep quiet for now. I'd hate for an errant shout to leave us with a nightmare of paperwork...
Traveling to Australia from Japan is about as convenient as it gets. The time difference between Kashima and Caloundra is only one hour, so jet lag doesn't even enter the picture. Since it's a night flight, we basically just sleep on the plane (hopefully) and wake up just before touching down. The only problem is the climate. The seasons are reversed, but winter in Caloundra is kind of like late spring in Kashima, i.e. a bit nippy at night and in the early morning, but quite warm during the day. However, the humidity there is only a tiny fraction what it is here in the Land of the Rising Spa. That makes dressing for the trip a tricky affair. It's pretty much a given that, no matter what we put on, we're probably going to either wind up drenched with sweat here, freeze there, or both. As for me, I just make do with a shirt with sleeves I can roll back. I'll deal with the rest later. The kids don't have it quite so easy. Their strict fashion rules limit their choices, and I
don't
pity them.
Check-in, security, and immigration at Narita Airport go smoothly and easy. Our travel agent explained to all of us in nauseatingly thorough detail just what we should and shouldn't do, so those in our group with little or no international flight experience have no trouble. We arrive at our gate to find it crowded. We also find that our flight has been (wait for it...)
delayed
. Just like last year. I figure it must be standard procedure.
I don't need to go into much detail about the flight itself. It's a code-sharing deal, i.e. a Qantas flight and a JAL flight both crammed onto a single JAL plane. We have Qantas tickets, which were cheaper than the JAL ones for the same trip...go figure. Then again, we get seated up in the upper deck, which seems to have simpler features and fewer conveniences than the main deck. The service is still just as good (and just as pretty), though, so I have no complaints...at least while I'm awake. I manage to sleep during most of the flight, so it doesn't matter much anyway.
The flight delay was due to poor weather conditions in Brisbane. It was foggy. It wasn't a nice fog, either; it was a caustically sarcastic one. You see, Brisbane usually gets foggy after a heavy rain, something they desperately need. The city is experiencing the worst drought it has seen in a hundred years. Reservoir levels are critically low, and several small rivers in the area have been dried up for three years. Plans are currently being drawn up both to pipe in water from hundreds of kilometers away and to recycle sewage into drinkable water. Needless to say, Brisbane desperately needs rain, and they were told it was coming. The forecast the day before was for a drenching downpour through the night and into the next day. The eagerly-awaited storm front arrived, all right, but all it had to offer was a pitifully light and short-lived drizzle before it moved onward (and dumped its rain on Caloundra), leaving a nasty fog anyway as if to add insult to injury. We arrive in Brisbane about half an hour late to find it damp and overcast but clearing. By the time we get through immigration, baggage claim, and the much-feared Aussie customs (diminished 7th fanfare) it is already clearing up.
The locals are not amused.
Following in the footsteps of our exploratory trip last year (still more evidence of the lack of rain), we visit the
Lone Pine Koala Sanctuary
and then have lunch at the lookout on top of
Mt. Coot-tha
. (I'd probably like to visit the
Castlemaine XXXX brewery
, but oh, well. I have a feeling I'll be enjoying its products pretty soon.) Then our bus gets onto the highway heading north toward the Sunshine Coast region.
I remember commenting last year how much Brisbane reminds me of Portland. The downtown areas are rather different, true, but as we circle our way out of the city and onto the highway, it would be very easy for me to wake up and think I was pulling onto I-205 near the Portland Airport. The look and the atmosphere are very similar. The road signs are virtually identical to the ones in Oregon (but with different place names, obviously) and you see signs and adverts for a lot of the same chain stores. However, after looking and thinking carefully, you would realize you're not in Kansas anymore, Toto. The trees aren't quite right, for one thing. A nearby car and "tyre" shop offers another hint, as does the sign directing one to the city "centre". Hmm...diesel is more expensive than gasoline here, too. Strange. Then there are those nifty, circular intersections all over the place (roundabouts). Oh, and wait...come to think of it...we're driving on the
wrong side of the road!!!
(Of course, living in Japan, I'm used to driving in the left lane, so I wouldn't think anything of it.) It doesn't take long for any illusions of Oregonness to disappear, however. Once we're away from the city we've clearly entered another world. The panorama is amazing.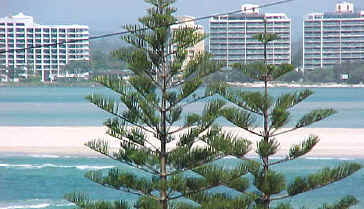 The kids are all asleep. Maybe it's better that way. We wake them up as soon as we roll past the "Welcome to Caloundra" sign, and they immediately go into full panic mode. Caloundra itself is probably not so unusual; its hilly combination of glittering, new beachside resorts and quiet, old residential neighborhoods could be likened to the town of Oarai back home in Ibaraki. However, after the town gives way to bush, a new boulevard under construction, and then more bush, we are greeted by a wonderful sight: a great, big welcome sign showing the logos of our two schools and saying, "Proud to be sister schools!" It's truly a wonderful sight.
It isn't long before the colorful, art-deco buildings of our sister school come into view along with something else we hadn't quite expected:
The year 2-5 students are lined up along the walk from the parking area, all holding either Aussie or Japanese flags, and greeting us enthusiastically in both English and Japanese. It's a spectacular sight.
Our kids are now in total panic mode.
After that we have a sort of mixer where we mingle with the host families and the "shadow students" that will serve as guides and companions to our kids while eating all kinds of munchies...especially including that traditional Aussie favorite,
lamington
. (I
LOVE
those things!) Then, seemingly from nowhere, a sexy, blond woman appears together with a cameraman. Apparently she is from a local TV station, and she proceeds to interview students of both schools before organizing a couple of group cheers.
(We later find out that we appeared before and after the evening weather forecast and have been seen by most of the area's population.)
When things have calmed down a bit, we have the official opening ceremony. (The principal, Dr. D, asks me to translate her speech, but someone talks to me during most of it, so I wind up more or less improvising. Oh, well...) Then the students are introduced to their host families and allowed to go their separate ways. Everything is quiet now, so after a bit of visiting with some of the faculty we are taken to our hotel. The man who looks after us the most is Mr. M, the Director of Students. I hardly spoke to him at all last year, but now he is really going out of his way for us. He offers to take us out for dinner, etc. tonight, but we're pretty much burned out (and don't want to wear out our welcome just yet), so we decide to call it a night.
As it turns out, we decide to go for a bit of a walk to find a place to eat, but we don't have much luck. We are staying at the Currimundi Hotel, which seems to have a bit of a mixed reputation (because "hotel" in Aussie English can actually mean "pub", and the Currimundi complex does indeed include a bistro and a very lively pub in addition to a simple, no-nonsense motel) but appears adequate and comfortable enough for our needs. Unfortunately, it's located in a "quiet" neighborhood where mostly working class residential district gives way to a strip of supermarkets, gas stations, video rental shops, home improvement stores, and a whole lot of fast food, but no bonafide, sit-down restaurants. We wind up hoofing it for quite a while before we quite miraculously bump into a student from our sister school, actually one of the "shadows", in front of a health club. After listening to her advice, we have dinner at
Red Rooster
, an Australian fast food chain which is kind of like KFC only healthier. Not exactly gourmet fare, but it's enough...and our rooms at the Currimundi are plenty good for a nice shower and a good night's sleep.
(Actually, our sister school has stocked each of our rooms with all kinds of munchies and juice, to which I add a 6-pack of
Carlton Crown Lager
from the drive-thru liquor shop that is also part of the Currimundi Hotel complex. Okay, I'm content. Day One/Two is done, and the adventure is fully underway!)