Logic is a Little Bird Tweeting in the Wilderness
December at last! Does it matter?
Sorry I haven't posted for so long. I've been trudging along knee-deep in a swamp known as Reality, which has been churned up into a froth by a combination of Universal Juncture (i.e. everything happening at once) and the laws of Simple Logic suddenly ceasing to apply. When things stop making sense, it causes a breakdown in the whole system of existence, or so it would seem. All I know is that I seem to be wandering lost in a mist.
(Why do I suddenly hear
Talking Heads
playing in the background?)
Not long ago I resubscribed to a members-only website I like to visit on occasion. (No, not THAT kind! Get your mind out of the gutter!) Naturally, my spam e-mails immediately increased exponentially. That's really not so surprising. After all, my friend
Dewkid
once created a new free e-mail account for the sole purpose of applying to some contest from the company that produces his beloved
Mountain Dew
, and suddenly that e-mail account (which he ONLY used for that contest) started getting flooded with spam, meaning Mountain Dew sold him out. I mean...if you can't trust Mountain Dew, who CAN you trust?
That's not what bugs me. What gets me is the
type
of spam mails I've been getting. I can almost understand the logic of messages with subject lines that actually advertise something, even if they stick in a random word to throw off the filters. However, I just don't get all those dozens of messages with subject lines reading, "It me [name]" that I got for a week or two. (I mean, the non-English-speaking spammer could figure out how to inundate my inbox with the stuff, but couldn't grasp the concept of the word
is
, let alone a comma?) Then those disappeared to be replaced with, "Me again [name]". (Probably the same idiot savant.) Then it was simply, "Hello [name]." (Hmm...is this a bad grammar conspiracy?) As if that weren't bad enough, now I'm getting spam messages whose sender and subject lines are written in
Russian
. (Let's hear it for international text support!)
Gee...I can tell you I'm just SOOOOOOOO tempted to read these things and find out what wonderful products or services they offer, such as how to get cheap medications or have part of my anatomy lengthened, or whatever! Actually, no I'm not. Not even a little bit. I'm very thankful for Firefox's automatic spam filter, which dumps the whole stupid lot into a special bin...where I then have to carefully look through the list to make sure no messages from people I know have wound up getting marked as "junk". Yes, it does happen from time to time. Otherwise, I'd be even more thankful for it.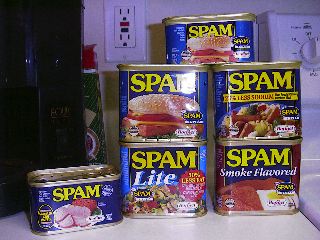 I prefer my Spam in a can, thank you...preferably turkey.
Spam spam spam spam...spammity spam, wonderful spam...
Speaking of meat in cans, ever since my 7th grade students blew chunks on my final exam last September I've been showing no mercy, giving them intensive drills and even more intensive review every week. So far I have put twice as much effort into this year's 7th grade class as any I've worked with in the past. I was determined to make sure that at least the overwhelming majority understood the very least basics of English grammar. Well, my quizzes showed that they were definitely making progress. Even some of the biggest dunderheads were finally starting to figure out which way was up. It was looking like my efforts were finally paying off.
Then I looked at the results of the midterm exam they took yesterday. I'd say about two-thirds of the students showed progress, and they did very well on what was actually kind of a high-pressure test. Then there was that other third...who apparently forgot everything and went back to square zero. There were a lot of errors that defied belief, things that shouldn't have happened for any reason. It didn't make a bit of sense. More students than ever before will be getting A's on one of my exams, but the ones that crashed crashed
really
hard, meaning a low overall average and the most unbelievably broad curve I've ever seen since [edited for PC sensitivities]. Naturally, since people tend only to see the bad things, I'll probably have some explaining to do. I had enough to do after that last final exam, and this is
much
worse.
Speaking of PC, my newspaper the other day sported
a picture of Japanese Prime Minister Abe standing next to Bono of U2 wearing matching shades
. One of the world's best-known emissaries of beautifulworldism, and he's standing next to the PM that wants to make "patriotism" (i.e. whitewashing of history) a cornerstone of Japanese education, rearm Japan with a proper military, and pursue a more aggressive foreign policy, and whose cabinet recently announced that Japan has the materials and know-how to make a nuclear bomb anytime it wants to...
if
it wanted to...
Does any of this make sense?
About the only thing that does make sense around here seems to be the U.S. Embassy in Tokyo, who told me that my passport renewal would probably take four weeks but got my new passport into my hands in less than two. Now
that's
service. Maybe I should ask to have my income tax rerouted to them...
Nahhhh...it would probably only wind up being rerouted again to something that made even
less
sense.
The Kashima Philharmonic (slightly off-key fanfare) has its annual classics concert a week from tomorrow. We are playing Mozart's Piano Concert #23 and Beethoven's "Egmont Overture" and 5th Symphony. None of those pieces is technically challenging at all. Musically, however, all of them are extremely difficult. Maybe even over our heads. (Does that make sense?) All I can say is that we need every bit of rehearsing we can get between now and then...and the officers squeezed in as much rehearsal time as they could get away with. It's going to be a busy week...
Time to stop thinking and start doing...as soon as I figure out what I should do. Meanwhile, winter vacation is three weeks away...