A Man's Home Is His Shiro (城)
There is a popular saying here in Japan that, if a man wants the best in life, he should have a Japanese wife, Chinese food, and an American house. Indeed, like so many things here in the Land of the Rising Sun, house design has become increasingly based on the American model. The traditional layout of a large, central chamber divided into compartments by
fusuma
(襖 - sliding partitions, usually made of painted or printed wood or cardboard in a wood frame), surrounded by
shouji
(障子 – sliding screens made of wood-framed paper), and ringed by a wide corridor that can be fully opened to the outside is giving way to the more familiar, Western idea of fixed, hard-walled construction. The
shouji
and fully-opening outer corridor once served as environmental control, but air conditioners have made them unnecessary. Now solid walls with insulation are becoming the norm, as are Western-style hinged doors that latch. Traditional sleeping mats and
zabuton
(座布団 – seat cushions placed directly on the floor) are also giving way to Western-style beds and chairs, leading to the customary
tatami
(畳 - woven grass mat) floors being increasingly replaced with carpeting. In terms of basic design, Japanese houses are clearly becoming more and more similar to their American counterparts. However, the Japanese identity has far from disappeared; on the contrary, it is still readily visible.
When entering even a very modern Japanese home, one is bound to find a space just inside the door, usually of the same material as that just outside (i.e. cement, stone, or brick in most cases), which is where the shoes are removed and kept. This space, referred to as the
genkan
(玄関 – usually translated as simply "front door"), is actually considered "outside", and an arriving guest will often simply walk into it and announce his presence in the traditional manner even after ringing the doorbell. The
genkan
is usually followed by a step which marks the border between "inside" and "outside".
A typical
genkan
in a modern home
As I said before, tiled or carpeted floors are fast becoming the norm in Japan, but most modern houses still have at least one
washitsu
(和室 – literally "Japanese room") with tatami floors, a low table, which may be a
kotatsu
(火燵 – a traditional heated, foot-warming table), surrounded by
zabuton
, and a
tokonoma
(床の間 – decorative alcove). I mentioned in an earlier post that the
tokonoma
in my house is crammed full of dolls and souvenirs. That is unusual. Usually the décor of a
tokonoma
is quite simple and elegant, such as a
kakejiku
(掛け軸 – hanging scroll) and either a vase of arranged flowers or a bonsai miniature tree. It goes without saying that the atmosphere of the
washitsu
is very much a traditional, Japanese one.
A tatami-floored
washitsu
with a
tokonoma
visible in the background.
Religion is an endangered species in Japan, but most houses still include a
kamidana
(神棚 – household Shinto shrine) and
butsudan
(仏壇 – Buddhist altar). The
kamidana
normally resembles a miniature shrine building, and, like a shrine, it usually faces east. It is considered the living space of the household guardian spirits. It is also where the good luck talismans for the year, purchased at a shrine during the New Year holidays, are usually placed. The
butsudan
, on the other hand, serves mainly as a memorial for dead ancestors. It may or may not contain a figurine of Buddha and/or Kannon (the bodhisattva of mercy), but it will most likely have memorial plaques if not photographs of deceased family members. More pious (or traditionally-minded) families will quite often first place gifts they've received on or near the
butsudan
so that the ancestors get "first dibs". Also, while one doesn't usually pay much deference to the
kamidana
, it is normal to place incense in the
butsudan
and even pray to it. (More pious individuals, such as my in-laws, even talk to their ancestors on occasion via the
butsudan
, informing them of important events.) Even if most Japanese nowadays call themselves "skeptical" if not atheist, the ancient religious customs are still very much the norm in the modern household.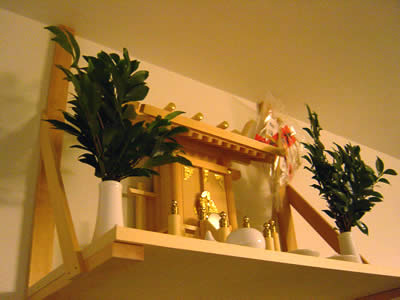 A
kamidana
. This one is actually rather small.
This
butsudan
, on the other hand, is a rather nice one.
My own home is a rather interesting case. When my in-laws had it built about fifty years ago, they never really intended to use it beyond just the upstairs bedrooms since they ate and spent their free time with my mother-in-law's parents over in the main house. It was first built in the traditional style, but not quite complete. The outer corridor originally wrapped around three sides. No need was seen for a
genkan
, since guests invariably went to the main house, so now my family is forced to use the roofed back porch as such (and our shoes often wind up very wet if it rains). Over time, as my wife grew up (and my father-in-law became more ambitious and self-obsessed), one section of the corridor was converted into an extra bedroom (now used by my kids) and a study, and the most visible section of outer doors was walled over in a decorative style. The tatami floors were all carpeted over. The
tokonoma
, as I mentioned before, is in an upstairs room since that was all my in-laws originally intended to use (and also because there's no room for it elsewhere). Since the
butsudan
in the main house has the family memorials, there's no need for one in mine, but we do have a cute, little
kamidana
on the east wall of the kitchen. We are now in the process of having the house enlarged and, in many ways, modernized. When the work is completed, hopefully this year, the Japanese-style layout will be gone. The kids will have separate bedrooms, and both the kitchen and living room will be larger. Generally speaking, the house will be much more Westernized.
But at least we'll have a real
genkan
.